Meet the management
Centaur is an international provider of business information and specialist consultancy that inspires and enables people to excel at what they do within the marketing and legal professions. Our Xeim and The Lawyer business units serve the marketing and legal sectors respectively and, across both, we offer our customers a wide range of products and services targeted at helping them add value.
Our reputation is based on the trust and confidence arising from a deep understanding of these sectors and we have developed a strong track record for providing insight, content and data.  Our key strengths are the expertise of our people, the quality of our brands and products, and our ability to harness technology to innovate continually and develop our offering. This enables us to help our customers raise their aspirations and deliver better performance.
Read More
Colin joined Centaur in September 2018 and became Chair from June 2019. Until June 2018, Colin was Finance Director of Euromoney Institutional Investor PLC (Euromoney), where he worked in leadership roles in the UK and US for 22 years. He is also an independent non-executive director, and audit committee chair, at M&C Saatchi Plc, and a non-executive director and trustee of City Lit, London's leading adult education college. During his time at Euromoney, Colin was instrumental in its transformation from its traditional media roots to a global, B2B digital information services group. He also has extensive M&A expertise through Euromoney's many successful transactions. Prior to joining Euromoney, Colin was a Director at Price Waterhouse Europe, where he qualified as a Chartered Accountant.
Member of the Remuneration and Nomination Committees. (Chair of Remuneration Committee until 5 February 2020.)
Swagatam Mukerji
Chief Executive Officer
Swag joined Centaur in July 2016 and has previously held senior international general management and commercial financial positions with several blue chip FMCG companies, including United Biscuits plc, Guinness plc and Virgin, where he operated as a value creator, trouble-shooter and change agent. As Group Finance Director of Biocompatibles International plc, he co-led the commercialisation and growth of the company with the CEO, increasing the share price fourfold in a falling market.
Since then, he has been a C-suite director of three private equity backed businesses in a variety of sectors with the common themes of strategy refresh and shareholder value growth. He has also led a substantial number of M&A transactions and multi-lender refinancings. Swag qualified as a Chartered Accountant at PricewaterhouseCoopers LLP and is a Warwick MBA.
Simon Longfield
Chief Financial Officer
Simon joined Centaur in November 2019. He spent the previous 10 years as CFO of BMI Research, a leading provider of macroeconomic, industry and financial market analysis, which was acquired by Fitch Group in 2014. During his time at BMI Research revenues more than doubled as the company expanded internationally with Simon's support.
Prior to this, Simon was CFO of Newfound, an AIM-listed property and leisure group. Simon began his career at PricewaterhouseCoopers LLP where he qualified as a Chartered Accountant and worked in London and Australia.
William Eccleshare
Senior Independent Director
William joined Centaur in July 2016. William is Chairman and CEO of Clear Channel Outdoor (NYSE). He served as a non-executive director of Hays plc from 2004-2014, has been a board member of the Donmar Warehouse Theatre since 2013 and is an independent non-executive director of Britvic plc. William was a Partner and Leader of European Branding Practice at McKinsey & Co. He has previously served in international leadership roles at major advertising agencies, including as European Chairman and CEO of BBDO (Omnicom); European Chairman of Young and Rubicam (WPP Group); Chairman and CEO of Ammirati Puris Lintas Northern Europe (Interpublic Group); Global Strategic Planning Director of J. Walter Thompson Worldwide (WPP Group); and CEO of PPGH/JWT Amsterdam.
Member of the Audit, Remuneration and Nomination Committees.
Carol Hosey
Non-Executive Director
Carol joined Centaur on 5 February 2020. Carol has extensive remuneration experience at executive and board level and has spent over 20 years in senior HR roles, including positions at Mace, the international consultancy and construction group, Mitie Group plc, Nationwide Building Society and Lloyds Banking Group.
Chair of the Remuneration Committee and member of the Audit and Nomination Committees. She is also the Non-Executive Director sponsor of Centaur's workforce advisory panel known as DICE.
Leslie-Ann Reed
Non-Executive Director
Leslie-Ann joined Centaur on 1 March 2020 and became Chair of Centaur's Audit Committee when Robert Boyle retired from the Board on 31 March 2020. Leslie-Ann is an experienced non-executive director and chairs the audit committees at Learning Technologies Group plc and Induction Healthcare Group PLC. She is also a non-executive director of Bloomsbury Publishing Plc. Leslie-Ann is a chartered accountant and her executive roles have included CFO of the B2B publisher Metal Bulletin plc and the online auctioneer Go Industry plc.
Chair of the Audit Committee and member of the Nomination and Remuneration Committees.
Steve Newbold
Group Managing Director - Xeim
Steve is Group Managing Director of Xeim. He is responsible for all the brands and services in the Xeim marketing division including Econsultancy, Influencer Intelligence and the highly successful Mini MBA series. Prior to this Steve was responsible for Centaur's multi-market Media and Events portfolios and Home Interest Division.
Steve joined Centaur in 2015 having previously held Managing Director roles at WGSN, i2i Events, Emap Communications (now Ascential) and Emap Consumer Media (now Bauer). He has experience of running multi-channel businesses in key sectors across both B2B and consumer markets.
Jane Wilkinson
Managing Director - The Lawyer
Jane is Managing Director of The Lawyer. She joined Centaur in August 2021 and has over 25 years of industry experience, including 18 years at B2B data and information business Euromoney Institutional Investor Plc, where she was responsible for running Euromoney Learning Solutions and Institutional Investor and Hedge Fund Intelligence, before becoming Group Chief Marketing Officer in 2016.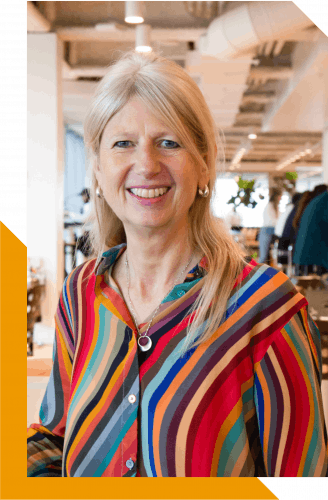 Jacquie MacKenzie
Group Head of HR
Jacquie is the Group Head of HR and joined the Executive Committee in January 2020. Prior to joining Centaur in 2015, Jacquie worked for Lloyds Banking Group, where she undertook a number of senior HR roles. She also spent five years working for Lloyd's Retail Banking Division in Customer Experience and as Head of Engagement in the London 2012 Sponsorship Team.
Talent and performance are critical to get right in any business and Jacquie is particularly interested in the role that diversity, culture and engagement play in ensuring that Centaur achieves its highest potential.